Nicholas Deveareaux is Mia's love interest in the film Princess Diaries 2: Royal Engagement.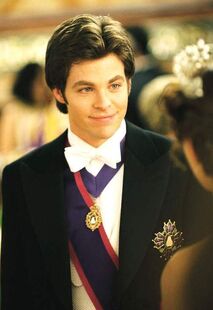 He is portrayed by Chris Pine.
In Princess Diaries 2: Royal Engagement
Edit
As a descendant of the Genovian Royal Family, with the help of his uncle he attempts to assume the throne, but eventually gives up his claim to Mia. In his attempt to prevent Mia from marrying to assume the throne, he tries to catch her interest romantically, but in the process, falls deeply in love with her.
Personality
Edit
Nicholas is shown to be charming, humorous, funny and kind. He is very comfortable talking with women and can be a bit of a flirt.
Relationships
Edit
Mia Thermopolis
Devereaux first meets Mia at her 21st birthday ball. Mia must dance with all eligible men, and she steps on his foot, a point of contention between the two later. Once Mia realizes that Nicholas is the other possible heir to the throne, she again steps on his foot, this time intentionally. Over the course of the film, he woos Mia, and eventually ends up falling for her himself. Late in the movie, he encourages her to sneak out of the palace, and Mia becomes angry at him when a news crew finds the two of them. However, he proves his love for her by revoking his claim to the throne and affirming his belief in Mia's leadership skills at her would-be wedding.
Viscount Mabrey
Viscount Mabrey is Devereaux's uncle. He has raised Nicholas since the death of his father at a young age. He repeatedly manipulates Nicholas into vying for the Genovian crown by playing on his emotions regarding his deceased father. Eventually, Nicholas rejects his uncle when he chooses to support Mia's claim to the throne.