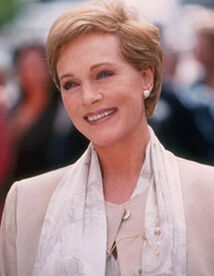 Clarisse Marie Grimaldi Renaldi
is the Dowager Princess of Genovia and Mia's paternal grandmother. She is mother to 
Phillipe Renaldo
, Prince of Genovia and grandmother to
Mia Thermopolis
, Princess of Genovia.  
Relationships
Edit
Mia is Clarisse's granddaughter and the Crown Princess of Genovia.  While Mia is in High School, Clarisse lives in New York City at the Plaza Hotel in order to teach Mia how to be a princess.  Mia is often resentful or angry at her grandmother, who she calls Grandmere, because the lessons are often callous or self-serving.  While their relationship is very tenuous, one cannot deny that the two do begrudgingly love each other.
Phillipe RenaldoEdit
Phillipe is Clarisse's son and the reigning Prince of Genovia.  His interactions with his mother are often a source of stress in his life, largely because it is on his shoulders to resolve her problems and her more serious arguments with Mia.  He loves his mother, but he does not relish interacting with her.
Rommel is Clarisse's dog.  She adores him and dotes on his needs.  At one point, Clarisse's love of Rommel sparks a citywide strike when Rommel acts up in a restaurant and Clarisse demands that a busboy be fired for her dog's actions.  Rommel is almost always by Clarisse's side.
Rocky ThermopolisEdit
Rocky is not a blood-grandson of Clarisse's, but the two of them seem to love each other more than Clarisse loves any other human being. He calls her 'Gwanmare' and she finds him adorable.  Both of these things shock their families.
Elena TrevanniEdit
Elena is Clarisse's rival.  As a royal from Monaco, she and Clarisse are in similar positions, leaving them to compete often.  They also have granddaughters who are about the same age, giving them another venue to compete in.  Clarisse feels threatened when Prince Rene of Genovia inpregnates Elena's granddaughter, but eventually finds merit in Mia's activism and uses Mia's successes to hold over Elena.
Michael MoscovitzEdit
Michael is the boyfriend of Clarisse's granddaughter.  Clarisse initially disapproves of Michael, calling him 'That Boy'.  After he builds the CardioArm, she changes her opinion and finds Michael to be a suitable consort for Mia.